EXTRACT: TEXT WORKS FROM THE ARCHIVE (2012)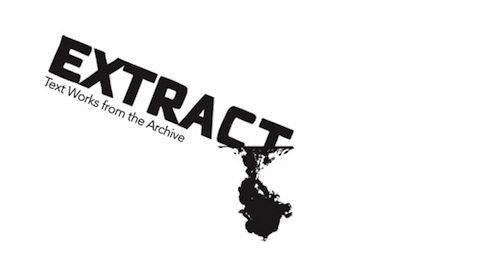 Extract: Text Works from the Archive is a project curated by Kate Armstrong for the grunt gallery in connection with the Activating the Archives (ATA) initative.
In literary and editorial terms, an extract, also called an excerpt or block quote, is a quoted passage that is set off from the main body of text. As a scientific or culinary term it can also refer to a concentrate that contains an essential quality of a thing. I've chosen this idea as an organizing principle for this exhibition not only because the works themselves deal with language, words, and text, but because this show represents a group of works that have been set off from the larger body of work held in the rich, multilayered archives produced at the grunt gallery over its twenty-eight year history.
Featuring work by Nadia Myre, Edgar Heap of Birds, Pam Hall & Margaret Dragu, Nicole Dextras, Kathryn Walter, Lisa Fedorak, Jason Fitzpatrick, Jude Norris, Hans Winkler, David Ostrem, Rebecca Chaperon, Jeff Thomas, Rip, Scene & Risk-E, Yechel Gagnon, Julie Faubert & Heloise Audy, and Rebecca Belmore.